Holiday Light Installation in Michigan
The holidays are a wonderful time to celebrate with your family and friends. However, it can be stressful setting up all the decorations around your home before the guests arrive. Let Grosse lle Lawn Sprinkler & Fertilizing take the stress off with our holiday lighting program in Michigan!
Our professional Christmas light installation includes:
A lease program for holiday lighting including led Christmas lights, twinkly lights, icicle lights, and more.

Custom designed Christmas display that is sure to impress your neighbors.
Installation, take down, and storage of the holiday decor. 
About this Service
We all get excited to start decorating for the holidays, but setting up your outdoor decorations isn't just a hassle—it can be downright dangerous, with over 6,000 Americans getting hospitalized each year for injuries sustained while setting up their lights. Worse yet, after assuming the risk and spending hours setting up, it still may not look how you want it to. That's why we provide holiday lighting design and installations for residents of Wyandotte, Flat Rock, Grosse Ile, and Brownstown Twp.
Benefits of professional holiday lighting include:
Risk-free setup.
Outstanding designs that you'll love.
Access to the highest-quality products.
Elimination of inconvenient storage.
Significant time savings to enjoy the holiday season.
Lease Your Holiday Decorations from Grosse Ile Lawn Sprinkler & Fertilizing
Grosse Ile Lawn Sprinkler & Fertilizing offers Christmas and holiday lighting installation services to make your home or business shine brightly during the festive season. Through our lease program, we provide a wide variety of lights to choose from, including string lights, twinkly lights, and icicle lights. All of our lights are high-quality and are made to last. We also provide any additional fixtures your display may need including custom-made power cords, hangers, photocell controllers, and timers.
Custom Christmas Lighting Display
We understand that not everyone's home is the same, which is why we offer custom Christmas light displays. We will work with you to come up with a unique design that fits your home and your budget. To create your ideal Christmas lighting display, we will request 3-5 pictures of your home and use design software. We will send you our proposal and you have the opportunity to make changes. Once you are happy with the design, we will proceed with creating your custom Christmas lighting display.
Install and Take Down Christmas Lights
We understand that your time is valuable, which is why we offer to install and take down your Christmas lights. We will install everything, from commercial-grade LED lights to hangers, power cords, and photocell controllers. We will also create a custom lighting schedule so that your lights are turned on and off at the times you desire.
Store Your Holiday Lighting and Decorations
After the holidays are over, we will also take your Christmas lights down for you and store them until next year. This way, the lights will be in good condition and ready to go for next season. It also helps to clear your garage of excess boxes.
Business and City Christmas Light Displays
Our Christmas lighting services are available to both residential and commercial customers. We understand that not everyone wants the hassle of putting up and taking down lights every year, so we offer a lease program. We will take care of putting up the lights, making sure they are in good working order, and taking them down and storing them for next year. This is a great option for businesses who want to add some holiday cheer to their storefront or city Christmas light displays.
Our Experience With City Holiday Lighting Displays
Grosse Ile Lawn Sprinkler & Fertilizing is proud to provide Christmas lighting displays for the following cities: Wyandotte, Flat Rock, Grosse Ile, and Van Buren Twp. We are honored to be a part of these communities and help make them look their best during the holiday season!
What's included in this service
Image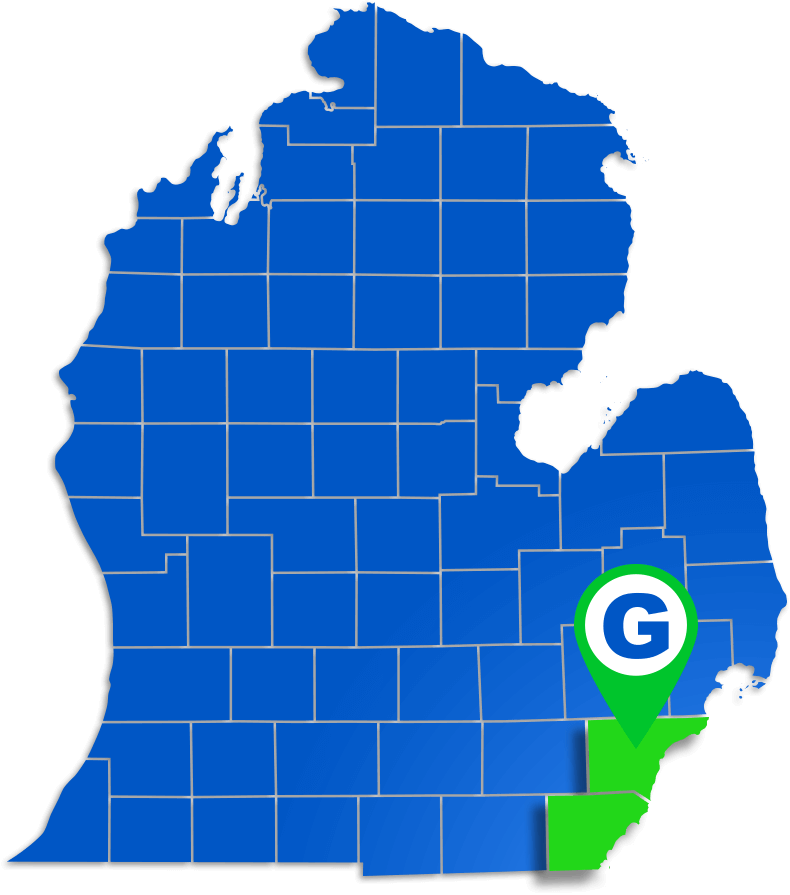 Areas We Service in Michigan
As a locally-owned and operated lawn care company, we take immense pride in serving communities across the downriver area. Our service spans across the entire region and is underscored by the small town work ethic and ethos that we've had since day one.