What kind of problem are you having? Select all that apply.
Lawn Care in Monroe
Like you, we appreciate the satisfaction of a job well done. Our lawn care technicians take pride in their work, and won't settle for anything less than the best. That's why all our lawn care services are backed by our satisfaction guarantee. 
When you choose Grosse Ile Lawn Sprinkler & Fertilizing for lawn care maintenance, you can expect:
Season-specific lawn fertilization

for optimal health.

Pre- and post-emergent weed control

that keeps weeds out of the picture.

Fall lawn aeration

to revitalize your turf.

Cold weather treatments

that prepare your grass for the frosty months.

Grub control and prevention

to keep your turf green all summer.

Guaranteed satisfaction

for total peace of mind.

And more!
Family-Safe, Eco-Friendly
Quality lawn care shouldn't jeopardize the health of your family or local ecosystem. This is why we only use EPA-approved products and techniques that don't endanger your loved ones or the surrounding environment.
Image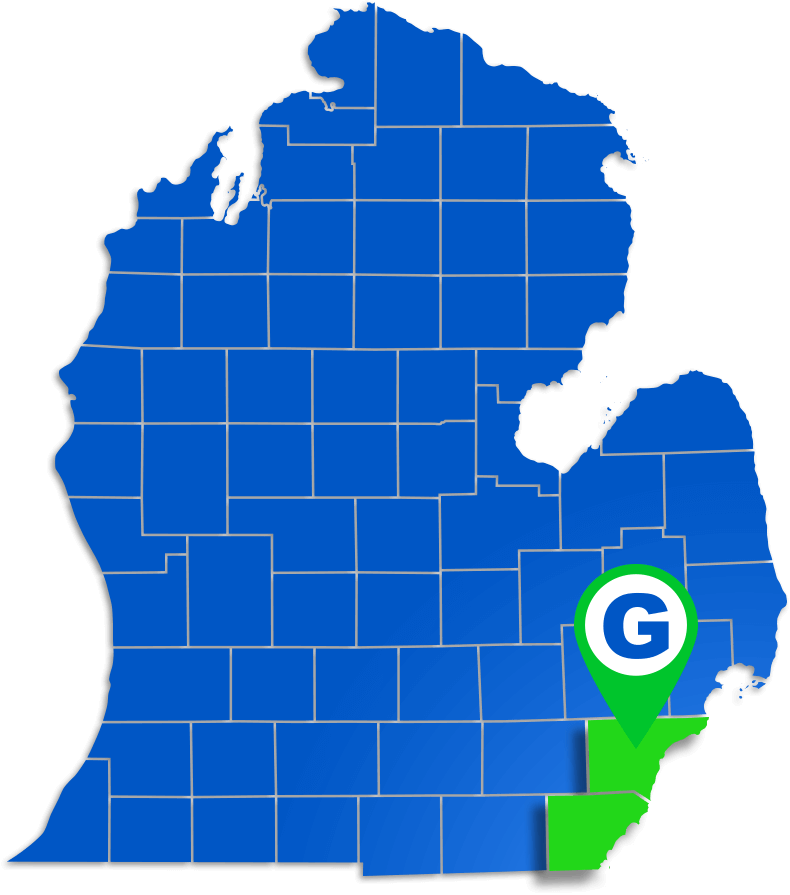 Serving the Downriver Area for 35+ Years
Having an experienced lawn care company on your side can make all the difference when it comes to getting the yard of your dreams. And with more than 35 years of local, hands-on experience to our name, our team of experts at Grosse Ile Lawn Sprinkler & Fertilizing brings plenty to your yard every time we come by. So the next time you look at your grass and decide that it could use a hand, give us a call!
Lawn Aeration in Monroe
As the seasons change and your lawn sees more and more routine foot traffic, you may see patches of thinning or dry grass, standing water, and nuisance weeds develop. Don't worry though because as annoying as it is, it's normal and there's an easy fix. We're talking of course, about our lawn aeration in Monroe. Here at Grosse Ile Lawn Sprinkler & Fertilizing, we're believers in at least one aeration service a year, typically performed in fall. And when done in conjunction with our overseeding service and available grub control treatments, you'll have a lawn you can be proud of come springtime! A few significant benefits of aeration service include:
Loosening of dense soil

which has become compacted over a year of routine wear.

Increased access to water, nutrients, and oxygen

for both stressed turfgrasses and the surrounding soil biome.

A decrease in standing water on your lawn

which reduces the spread of lawn disease and fungi. 

An overall healthier growing environment

for your grass to thrive and outcompete invasive weeds.

The

full, green, and lush lawn

that you've always wanted. 

And many more!
Lawn Fertilization in Monroe
Are you tired of looking at a lackluster and patchy lawn? Say goodbye to dry and unappealing grass with the help of Grosse Ile Lawn Sprinkler and Fertilizing , your local lawn care experts in Monroe. With over years of experience in Michigan, we are dedicated to providing top-notch fertilization and lawn care services. Get ready to witness the transformation of your lawn into a thriving oasis.
Here's what our comprehensive fertilization program includes:
A free inspection of your lawn to identify its needs, and create a customized fertilizing plan for best results.
Family-friendly treatments to ensure the safety of your loved ones and pets. 
Six applications with different treatments for each stage of weather, ensuring a healthy lawn all year round.
We guarantee your satisfaction. If you're not happy, we'll fix it.
Don't settle for subpar turf any longer. Contact us today to schedule your fertilization service and begin your journey toward a thriving and beautiful lawn!
Lawn Irrigation in Monroe
At Grosse Ile Lawn Sprinkler and Fertilizing , we understand the importance of having a local service provider that you can trust with your yard's well-being. With over 35 years of serving communities across Michigan, we have built a reputation for delivering exceptional service that our customers have come to rely on.
Our lawn irrigation services include:
Reliable and professional installation using the industry-leading Hunter and Rainbird systems to ensure the best possible results.
Seasonal maintenance services to ensure that your irrigation system functions optimally all year round.
Start-up service to guarantee that your irrigation system will deliver maximum results from day one.
General maintenance for pre-existing systems gives you peace of mind knowing that your system will continue to perform at its best.
Certified backflow testing to ensure the safety of your community's potable water supply. 
Expert repairs for sprinkler systems, commercial buildings, dentist offices, and select doctor offices.