What kind of problem are you having? Select all that apply.
Lawn Care in Trenton
To us, a quality lawn care plan is one that works to keep your grass healthy all year, sets it up for a robust growing season, and doesn't stop until you're completely satisfied—that's what we strive for in every job, no matter how big or small.
So when you hire us to give you the yard you've always wanted, you can expect:
Seasonally-adjusted fertilizer applications.

Pre and post-emergent weed treatment service.

Fall lawn aeration.

Cold weather protection. 

Built-in grub control.

Guaranteed satisfaction. 

And much, much more!
Environmentally and Family-Friendly Lawn Care
Have you ever passed on professional yard services because you were concerned about its impact on the local environment or didn't want to expose your family to potentially dangerous chemicals? If so, Grosse Ile Lawn Sprinkler & Fertilizing is the right company for you! Every product we use is EPA-Approved, environmentally-friendly, and designed to pose minimal risk to your loved ones. When you work with us, you'll never have to choose between a beautiful green lawn and your own peace of mind again. 
Image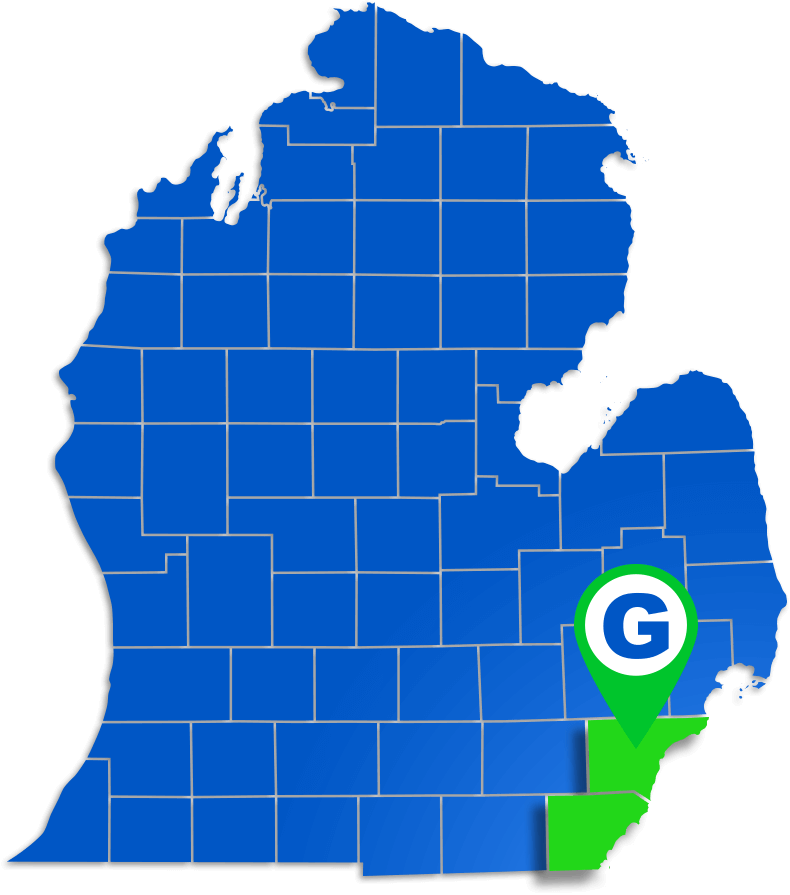 Lawn Aeration in Trenton
As much as we all wish there were, there isn't one perfect panacea when it comes to maintaining your turf. That said, our lawn aeration in Trenton is about as close as it gets. It is important to aerate a lawn when it becomes thin and discolored. Excessive standing water can lead to outbreaks of diseases and fungus. A quality lawn aerator is the answer to all your lawn problems! Performed by our highly-trained, local experts, our lawn aeration service can provide your grass with numerous benefits, including:
Loosened and oxygenated soil, allowing for deeper root penetration.

Easier access to groundwater and nutrients for growing grasses.

Reduced levels of standing water.

A healthier overall plant that can more easily resist pests and outgrow weeds.

A fuller, more vibrant appearance.
Weed Control in Trenton
Bending down to yank up stubborn plants only to see them come right back is one of the most frustrating aspects of gardening. But what if we told you that there was a better way? When you sign up for our weed control in Trenton, you can have that healthy, weed-free lawn that you've always wanted without any of the tedious, frustrating work! Our experienced and knowledgeable lawn care technicians will keep your outdoor spaces free from the following weeds:
Clover
Crabgrass
Dandelions
Foxtail
Henbit
Ragweed
Wild Carrots (AKA Queen Anne's Lace)
And many more!
Irrigation Services in Trenton
Adequate watering is essential for your lawn to thrive during the long, hot days that we see during a Michigan summer. Rainfall is not predictable and there is a lot of time and labor to manually move sprinklers around your yard. When you install an automatic lawn irrigation system from Downriver's best irrigation company, you will save time and money.
Grosse Ile's lawn irrigation services in Trenton include:
Irrigation system installation

using only high-quality products by Hunter and Rainbird.

Start-up service

in the spring to check that your system is functioning correctly.

Seasonal maintenance and repairs

to maximize your system's performance.

Available maintenance and repairs

for pre-existing irrigation systems.

Expert winterization

to make sure your system is correctly prepared for cold weather.
Backflow Testing
When regular backflow testing is required, it must be done by a State of Michigan Certified Backflow Tester. Fortunately, you don't need to look any further than Grosse Ile Lawn Sprinkler & Fertilizing for a Certified Backflow Device Specialist to complete assessments and necessary repairs. We are able to perform testing for sprinkler systems and select commercial buildings, dentist offices, and doctor offices.
Lawn Fertilization in Trenton
Say goodbye to brown spots and thinning grass, and hello to a lush, healthy lawn. Transform your turf with our expert fertilizer application in Trenton! Our lawn care technician will provide a customized fertilizer program to meet your needs.
Here's what you can expect from our comprehensive fertilizer service:
Lawn Inspection: Our knowledgeable team will thoroughly inspect your lawn to determine the best fertilizing plan for your unique needs.
Lawn Fertilization Applications: Our top-notch fertilizing program includes six applications of grub preventative, crabgrass control, weed control, and slow-release granular fertilizer. We use different blends of fertilizer based on the different weather stages of our season to ensure optimal results.
Trust our team of experts to give you the healthy lawn you've always wanted. With our 100% satisfaction guarantee, you can rest assured that we stand behind our work. Don't settle for a lackluster lawn – contact us today to schedule your fertilizing service!
Additional Services
After having your landscape well maintained and looking its best, there is still more you can do to achieve the overall beauty of your home. We offer supplementary services for you to have the best yard around, including: 
Outdoor Lighting:

Outdoor lighting can create a cozy, warm welcoming feeling within your property. Here at Grosse lle, we offer design and installation options to suit your needs.

Holiday Lighting:

We know there are common annoyances of putting up Christmas lights, so let us handle this part! Our technicians will decorate your home to your liking with the best lighting and after the season is over, we will come back to take everything down so you'll be ready for next season.
Trust Our 35+ Years of Experience
For more than 35 years, Grosse Ile Lawn Sprinkler & Fertilizing has provided communities across the downriver area with the highest level of lawn care and maintenance service around. As a locally-owned and operated company, we're proud to serve Southeastern Michigan and beautify yards across the entire region. So when you need to give your grass a boost, look no further!