What kind of problem are you having? Select all that apply.
Lawn Care in Woodhaven
Every homeowner dreams of having that perfect green lawn that they can feel proud of. Sadly though, so few of us ever get to experience it for ourselves. After all, lawn care is basically a full-time job, so why not just let the experts do the job instead?
Sign up for our lawn care in Woodhaven today and you'll receive:
Seasonal fertilizer treatments.

Pre and post-emergent weed prevention and removal.

Fall and winter weather protection.

Aeration and seeding.

Grub control. 

And lots more! 
Over 35 Years of Local Experience
Experience counts for quite a lot when it comes to caring for your lawn. Why would you hand your precious outdoor spaces over to a company that may or may not know what they're doing? Instead of rolling the dice, put your trust in a company with more than 35 years of hands-on experience all over the Downriver area!
Image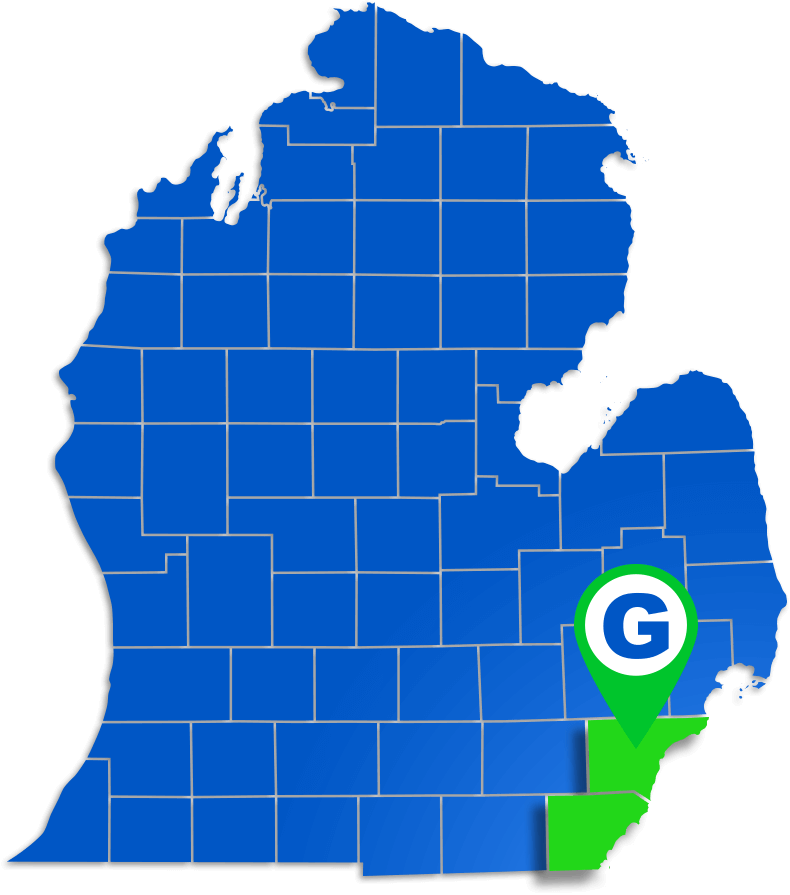 Michigan's Most-Trusted Lawn Care Technicians
Here at Grosse Ile Lawn Sprinkler & Fertilizing, we pride ourselves on providing our customers with the very best service that money can buy. To help us accomplish that, we go the extra mile to put only the most qualified and best-trained lawn care technicians to work for you. So when you choose us to give you the lawn of your dreams, you can rest assured that we'll do the job right! 
Our lawn care service includes:
A careful and thorough inspection

of your outdoor spaces.

Custom-designed lawn maintenance and care plans

to address your concerns and meet your needs.

Available irrigation, outdoor lighting, and holiday decorating

. 

Our

complete satisfaction guarantee

to you.  

And much more!

 
Save 20% On Your First Treatment!
Family and Eco-Friendly Service
At Grosse Ile Lawn Sprinkler & Fertilizing, we consider keeping you and your loved ones safe our most important responsibility. We prioritize your family's well-being and happiness through our exclusive use of family, pet, and environmentally-friendly products and methods. Anything less just isn't good enough for us, so don't hesitate to reach out to us today if you're ready to get the lawn that you've always wanted!
Lawn Aeration in Woodhaven
Even the most well-maintained lawns can suffer from lawn fatigue. During the warm summer months here in Woodhaven, we often spend most of our time outdoors. Often after a season of excessive use, drought, and heat spells, our grass's soil can become compacted, blocking out much-needed nutrients, oxygen, and water from permeating through. 
Thankfully, there is a solution. Grosse Ile Lawn Sprinkler & Fertilizing can rejuvenate your turf with a process called aeration. Offering both core aeration and liquid aeration, this valuable service can tremendously benefit the health and vitality of your lawn. But the benefits don't end there. Other advantages of having lawn aeration performed include the following:
Reduction of thatch build-up.

Increased access to oxygen, water, and vital nutrients.

Reduction in puddling or standing water.

Stronger, healthier roots

Fewer diseases and lawn fungus.

An overall healthier, thicker lawn!
Weed Control in Woodhaven
Weeds aren't just an eyesore; they also take water, nutrients, and essential resources away from your grass. While pulling out conventional weed killers is tempting, these DIY methods are often ineffective and can cause more damage to your lawn. When you contact the professionals at Grosse Ile Lawn Sprinkler & Fertilizer, they will spray for weeds using safe and effective products. 
Our expert technicians can help get rid of common and persistent weeds in Woodhaven, including:
Clover

Dandelions

Crabgrass

Foxtail 

Ragweed

Chickweed

Henbit

And many more!
Fertilizer Application in Woodhaven
Transform your lackluster lawn into a thriving oasis with our top-notch fertilizing program in Woodhaven. Say goodbye to brown spots and thinning grass, and hello to a lush and healthy lawn. Our fertilization service includes the following:
Lawn Inspection: Our knowledgeable team will conduct a thorough assessment of your lawn, identifying any issues such as brown spots or thinning grass.
Lawn Fertilization Applications: With our specialized fertilization program, we provide six applications throughout the season using slow release granular fertilizer. This promotes healthy lawn growth and a vibrant green appearance.
Customized Packages: We tailor our fertilizer blends based on the weather stages in Michigan, ensuring your lawn receives the optimal nutrients it needs for exceptional results.
Expert Lawn Care Technicians: With over years of experience, our team of professionals possesses the expertise to deliver outstanding lawn care in Woodhaven.
100% Satisfaction Guarantee: We stand behind our work and are committed to your complete satisfaction. If you're not happy with our service, we'll make it right.
Contact Grosse Ile Lawn & Sprinkler today to schedule your fertilizing service and take the first step towards achieving the lawn of your dreams!
Irrigation Services in Woodhaven
Don't let brown spots and thinning grass ruin your lawn. Trust our reliable lawn irrigation service in Woodhaven to transform your yard into a healthy, green oasis. We offer the following services for sprinkler/irrigation systems:
Industry-Best Systems: We exclusively use Hunter and Rainbird systems, known for their superior quality and performance.
Year-round Maintenance: Our seasonal maintenance keeps your sprinkler system functioning optimally, preventing brown spots and thinning grass.
Water Conservation: Our wireless rain sensors enable precise irrigation based on real-time weather conditions, significantly reducing water waste.
Automated VIP Program: With automatic startups and shutdowns, pre-scheduling, and appointment confirmation, our VIP program provides convenience and peace of mind.
Backflow Testing: Our Certified Backflow Device Specialist conducts thorough assessments, ensuring the safety and quality of your community's potable water supply.
Expert Repairs: Our Backflow Pros division specializes in repairing devices that do not pass the pressure test, ensuring the water flows in the right direction.
Call us today to schedule your sprinkler installation, maintenance, and backflow testing. Experience the difference our expertise and commitment to customer service can make.
Outdoor Lighting Services in Woodhaven
Light up your outdoor space with our outdoor lighting services in Woodhaven. Our experienced professionals will create a custom lighting design that emphasizes the beauty and safety of your property while enhancing its curb appeal. We offer the following services:
Design Consulting: Our team of professionals will work closely with you to develop an outdoor lighting design that meets your needs and expectations.
Installation: We take care of everything from trenching to electrical wiring to ensure your lighting system is installed correctly and safely.
Equipment: Our outdoor lighting systems use the latest LED technology, resulting in higher efficiency, longer life, and beautiful illumination.
Repair & Maintenance: We provide repair and maintenance services for your existing outdoor lighting system, keeping it functioning properly and safely.
We also offer holiday lighting installation! Call us today to schedule your outdoor lighting consultation in Woodhaven!